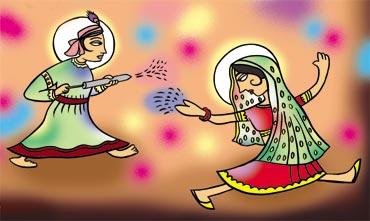 W
hile you're making wild plans to smear and drench your friends with vibrant colours this Holi, do make sure that your celebrations are safe so you can enjoy the festival of colours to the fullest.
Try these tips before, during and after Holi and you can be sure this year's celebrations are safe and a whole lot of fun!
Choose your friends


To enjoy Holi, it is important that you feel safe and comfortable with the people you are celebrating with. The best way to do that is to avoid playing Holi with strangers. Decide on a common place where you and your friends can come together and enjoy the festival, instead of using a public place, where anyone can join in your celebrations. Also encourage your friends to use organic or natural colours.
Skin care
Wear clothes that cover you up. Comfortable jeans and old T-shirts are best as they will protect the maximum parts of your body from colours.
Liberally use a sunscreen, baby oil or almond oil all over to prevent the colour from affecting your skin directly, says beauty and skin expert Meghana Kunte.
After celebrating Holi, it is important to remove the colour completely and replenish and rejuvenate your skin.
In case you end up with rashes, itching or any reaction. Apply any calamine lotion and seek immediate medical advice. Avoid using kerosene, petrol and spirits to remove stains as they will further dry the skin.
Avoid very hot water to wash of the colour at will make your skin drier. Instead use lukewarm or cold water to wash off the dry colour and then use a mild soap to rinse off any colour that is left behind.
Refrain from excessive brushing and scrubbing. If the colour does not come off easily, it should be left to discolour on its own over a period of time. Trying to get rid of stubborn colour might cause you to damage your skin instead, warns Meghana.
Make sure you use lots of moisturiser to restore all the moisture your skin has lost after your colour play and long bath.
Meghana also advises using a moisturising body mask during your post-Holi bath.
Nails and more
Apply petroleum jelly under and around your nails, feet, elbows and behind your ears -- all the areas that are usually ignored. Your could also apply a mixture of glycerin, aroma oil or almond oil or baby oil. If your skin is very dry then try the liberal use of moisturiser or cold cream, says beautician Varsha Korhale.
Eye care
If a water balloon hits you near or on the eyes, rinse them immediately with water. Do the same if at any time the colour affects your eyes.
If irritation persists or in case of bleeding, cover with a clean cloth or cotton and visit a doctor as soon as possible. Rubbing or massaging the eye is an absolute no-no!
Hair care
Hair is prone to damage thanks to the chemical colours that are quite popular during Holi. With the exposure to these colours, hair can turn brittle and extremely dry. To avoid this, apply a generous layer oil or leave-in conditioner before you step out. Apply oil on the scalp as well as along the length of your hair. Tie your hair into a bun or a ponytail to avoid excess damage.

Shampoo your hair immediately after playing with colour and don't forget to condition. If your hair gets too dry, warm oil accompanied with hot towel treatment should be given for a day or two, advises Varsha.
Make colours at home
Red: Get dried red hibiscus flowers and powder them. Red can also be obtained from the juice of tomatoes and carrots.
Magenta: Grate a beetroot and soak it in one litre of water.
Orange: Mix a pinch of sandalwood powder in one litre of water for an instant and fragrant saffron colour. You could also add one teaspoon of haldi (turmeric) to two litres of water and stir well. Alternatively, soak 50 marigold flowers in water, boil and leave overnight.